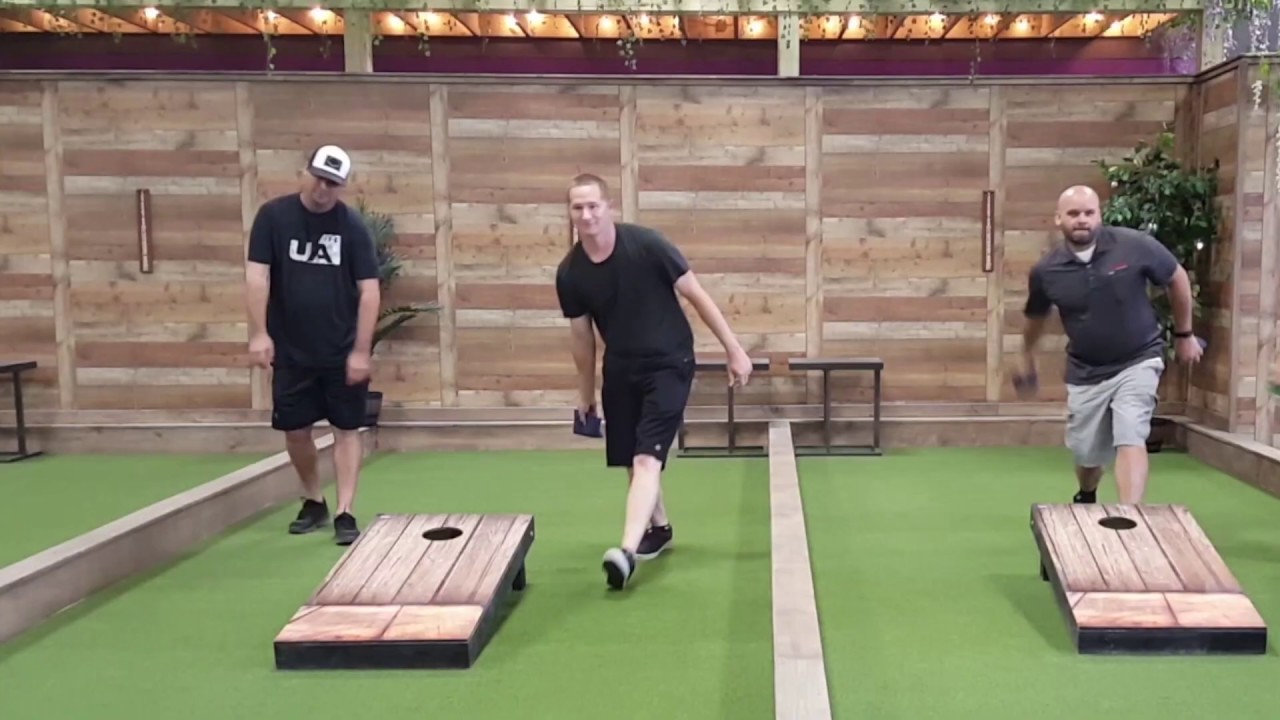 Brevard's FIRST axe throwing facility!
We are Brevard's First Axe Throwing Venue! Now bringing you, Soft Arrow Tag and Soft Arrow Hover Ball!! We also have indoor Bocce Ball, Corn Hole, Putterball, Shuffleboard, Curling, Darts, Ping-Pong, Air Hockey and Billiards. Located a half mile South of the Pineda Causeway on US1, we have food, beverages (including beer and wine), and fun for everyone! Our venue offers fun indoor activities for adults and families with children ages 10 years old and up in Melbourne, Florida, and all of Brevard County.
Whether you want to enjoy games with friends, grab a bite to eat, join a league, celebrate a special occasion, host a company party or team building event - we have you covered at The Backyard Games and Eatery! With over 8,900 square feet of air-conditioned indoor space, complete with our in-house food and beverage café, we can meet your fun and games needs - even if you are just trying to escape the Florida heat and/or rain!
Are you looking for a unique experience for a party, special event, or corporate team building? We offer custom packages that can include a variety of activities, food & beverages, and even meeting space in our cafe with tv monitors for presentations!
See What Everyone is Saying...
Great time. Anthony was very helpful telling us how to throw the 🪓 so we didn't get hurt and getting it to stick. He told us about other games they are coming out with soon. Really good time and good staff.

We had a corporate event here and it was a wonderful experience! The staff here is awesome. It was a great team building activity. Everyone was laughing and truly enjoying themselves. I would definitely recommend coming here for parties, corporate events, or just an evening activity!

My wife and I tried The Backyard out as a late birthday outing for her. We really enjoyed it. The staff was super courteous and knowledgeable. The food was great! Overall, a wonderful experience...which we'll be repeating more than a few times!

This was an impromptu last minute date night idea for my husband and I. Not only were we greeted by a super friendly and knowledgeable staff, but we were surprised by the amount of help, guidance, and above and beyond service that we received the whole time we were there. After throwing axes, we played darts, ate pizza, had some drinks and chatted with the staff. The whole experience was amazing and we will definitely be back.

Lots of fun! Friendly staff. Nice, clean environment. I highly recommend!
First time axe throwing. It made for a good afternoon with my son.
I plan to return and try some of the food and other activities. Looking forward to more axe throwing too.

Had a blast at the Backyard with one of my girlfriends for ladies night. Everyone there was friendly, helpful, and fun. Special thanks for putting on some rage music by request so we could vent some frustrations out with the perfect ambiance as we let out battle cries We appreciated the introduction on how to throw and of course the free first drink special for ladies night. We had so much fun. I really didn't think I'd enjoy throwing weapons as much as I did. We can't wait to go back!

Found this place on tik tok and it was super fun. Great way to end my trip, now back to RI. Hopefully there's another axe throwing place with staff just as nice as here up north!!

Outstanding service and flexibility. Had a unit function with a few extra/unusual requests and they met them all. Recommend this place to everyone to enjoy. The owner Terry , his manager Tamara and the rest of the team was extremely helpful, polite and patient with us.

Thanks again for all you did to make our outing a success.

OB1
For more information about parties or group events complete the form below!
Share your email to stay up-to-date on events, promotions, and other happenings in The Backyard!
5270 N US Hwy 1 Palm Shores, FL 32940
| | |
| --- | --- |
| Sunday | 12 PM – 7 PM |
| Monday | Closed - Leagues or Private Events Only |
| Tuesday | Closed - Leagues or Private Events Only |
| Wednesday | 4 PM – 9 PM |
| Thursday | 4 PM – 9 PM |
| Friday | 4 PM – 11 PM |
| Saturday | 12 PM – 11 PM |
Additional times available for Private and Corporate Events. For extended hours and bookings outside of regular business hours for a party of 20 or more -please contact us!
BOOK ONLINE
for lane rental and reservations during normal operating hours. Hours are subject to availability due to league play and private events.